TEETH STRAIGHTENING, EDINBURGH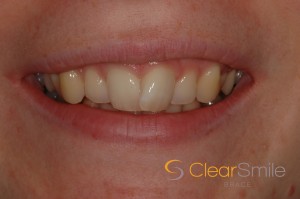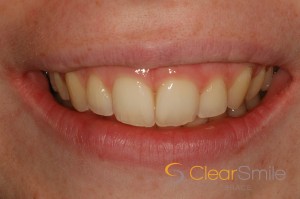 Many people are not happy with how their front teeth look when they smile. Overlapping and crooked teeth is a common problem. Orthodontic dental braces can fix most peoples problems, but many are put off wearing a brace as part of a teeth straightening process for a year or two. At Barron Dental, we have the perfect teeth straightening solution for you.
Teeth Straightening Dental Braces
We are able to offer you ClearSmile Dental Braces. They use traditional techniques with new technology to reduce the time needed to straighten your teeth. The length of time needed to wear your ClearSmile Braces can be as short as 9 weeks. ClearSmile Brace is a rapid and aesthetic orthodontic system that focuses mainly on the front teeth. The speed and less visible appearance of a ClearSmile Dental Brace makes it a highly appealing teeth straightening option that can fit anyone's lifestyle.
ClearSmile Brace uses clear brackets, as opposed to metal brackets. The wire used in a ClearSmile Dental Brace is also coated with a tooth coloured material. As a result, ClearSmile Brace is less visible than traditional fixed braces.
Why not contact our Edinburgh dental practice today and find out how our teeth straightening and dental braces can help you. Costs may vary subject to treatment required. View our map location for details of how to find our Edinburgh practice situated in the heart of Leith.
Barron Dental, Edinburgh: Teeth Straightening Solutions with ClearSmile dental braces that will make you smile.


OPENING HOURS
| | |
| --- | --- |
| Monday | 8:30am - 5:00pm |
| Tuesday | 8:30am - 7:00pm |
| Wednesday | 8:30am - 5:00pm |
| Thursday | 8:30am - 7:00pm |
| Friday | 8:30am - 5:00pm |
The premises are at street level and we have easy access for the elderly and those with walking difficulties.
Our practice is situated at the end of Ferry Road, opposite Leith Library and only 500m from Ocean Terminal.
There is unrestricted parking on nearby streets. Bus numbers 1, 7, 10, 14, 21 and 34 all stop nearby. Buses 11, 22 and 36 also stop at Ocean Terminal.