Our Dental Team are always here for you.
All of our clinical staff are registered with the General Dental Council and adhere to the GDC Standards for dental professionals.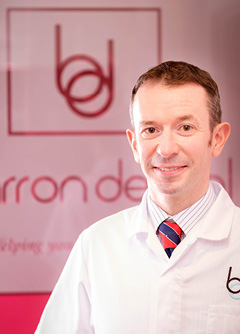 Neil Connell BDS (Glas)
Principal Dentist (GDC no. 75813)
Neil Connell is the Principal Dentist of Barron Dental. He qualified from Glasgow University in 1999. He is very happy to treat the whole of your family and has gained a lot of experience in treating adults and children. He has a keen interest in cosmetic dentistry. Anything from teeth whitening to advanced cases where complex treatment is required. He especially enjoys restoring missing teeth with implants.
Neil is an enthusiastic, caring dentist who is very interested in continually expanding his knowledge in the latest advancements in dentistry. Having worked in the Lothian area since 2001, he regularly attends postgraduate courses and a number of dental study clubs, where he and his peers can discuss freely and learn from each other about the latest developments in dentistry. His keen interest in dentistry has taken him to dental clinics and hospitals in America and all over the UK.
Wrinkle Reduction
Neil also has many years of experience in Wrinkle Reduction treatments using Botox and temporary Dermal Fillers.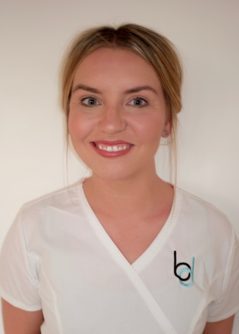 Laura Wilson BDS (Dund) MFDS (Edin)
Dentist (GDC no. 191467)
Laura Wilson is a sympathetic, caring dentist who is happy to listen to and discuss any dental concerns you may have regarding yourself or your children. Since qualifying from Dundee University in 2010, she gained further postgraduate qualifications to obtain her Diploma of Membership of the Royal College of Surgeons, Edinburgh. She brings to the practice extensive knowledge of private dentistry.
Over the years, she has worked in general practice in busy, family dental practices in the Lothian And Fife areas and has also gained valuable knowledge and experience by working within the hospital setting treating a wide variety of patients of all ages.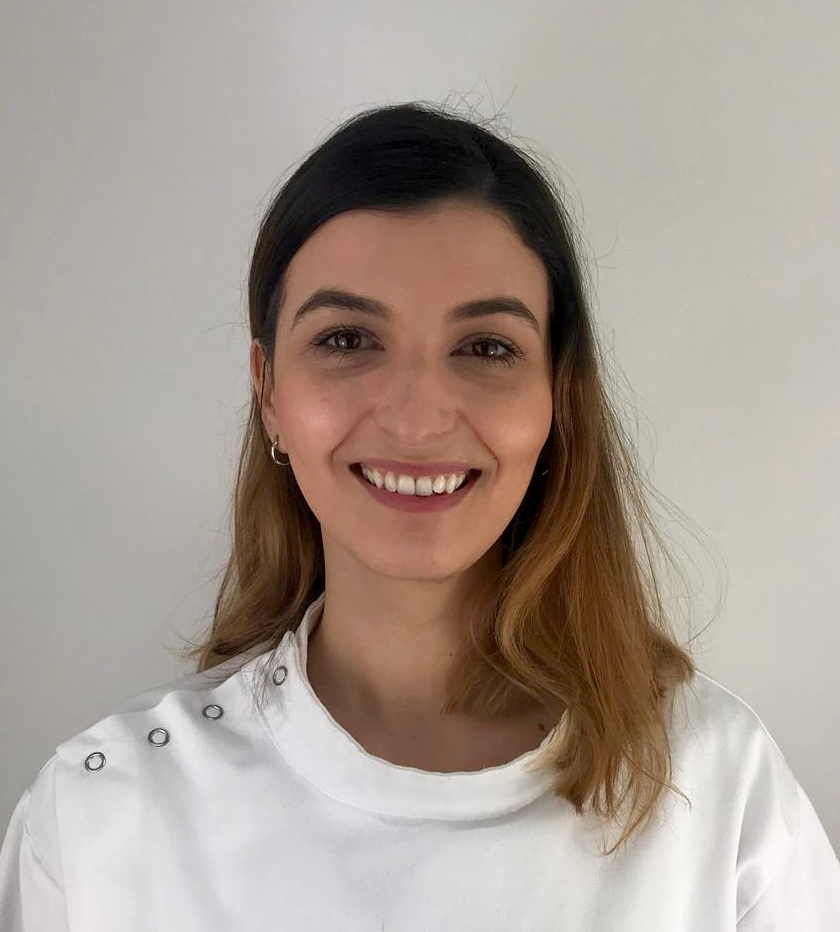 Ana Soare BDS (Dund) 
Dentist (GDC no. 264123)
Ana Soare is is a personable and very competent and caring dentist. After qualifying from Dundee University in 2016, she started her career working in Tayside. The practice she worked in was a busy, family dental practice in which she gained excellent experience in all aspects of dentistry. She eventually decided to move south to Edinburgh, to further her career. 
She joined our Barron Dental team, coming highly recommended by the principal dentists at her practice previous practice in Tayside and we were very happy to welcome her to the Barron Dental team. She is very happy to see adults and children and always takes time to ensure all patients are relaxed and at ease during their visits to Barron Dental. She takes a keen interest in postgraduate education and regularly attends talks and conferences in the UK. She is trained in short term orthodontics using the Cfast system which is an excellent system to straighten teeth in adults of all ages.
Saad Abou Off BDS (Ca)
Dentist (GDC no. 254915)
Sam is a sympathetic, caring dentist who is happy to listen to and discuss any dental concerns you may have. Since graduating from the University of Cairo Dental School in 2008, Sam has gained valuable experience within the hospital and general dental settings. After moving to Scotland in 2016, he has gained extensive knowledge in private dentistry within dental practices in the central belt. 
Sam has happily settled in Edinburgh and he is committed to providing all his patients with high quality dentistry that is patient-centred and gentle. Sam is a very attentive dentist, who patients find approachable and caring. He has gained further postgraduate qualifications in a number of areas including the Diploma of Membership of the Royal College of Surgeons, Edinburgh and a Postgraduate Certificate in Orthodontics. 
Sam is happy to see patients who may have a great variety of dental needs. He is able to offer all his patients dental implants and short term orthodontics with Clear Connect and Cfast, which work in the same way as Invisalign using clear aligners to straighten your teeth and give you the smile you always wanted.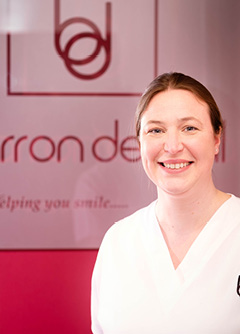 Jane Taylor
Dental Hygienist (GDC no. 5953)
Jane trained at Edinburgh Dental Institute, qualifying in 2001. She joined Barron Dental in 2007 having worked in Edinburgh & Cambridge.
She is an intrinsic member of our dental health team encouraging and instructing on good oral hygiene in order to maintain healthy gums which are so important for a happy smile.
Before joining the practice in 2007 she worked in general practice and hospital here in Edinburgh and Cambridge.
A member of the British Society of Dental Hygiene and Therapy, Jane is a regular attender at professional meetings and postgraduate courses keeping up to date with new technology and treatments.
Karen McAuley 
Dental Hygienist (GDC no. 102940)
Karen qualified with a Diploma in Dental Hygiene form the Royal College of Surgeons of Edinburgh in 2006. Since then she has worked in the Lothian area. She is a very experienced hygienist, who will always be happy to help you with your dental health, especially helping to ensure you can keep your gums as healthy as possible. She is patient, caring hygienist who will always listen to your needs and give advice to ensure you can feel confident with your oral health.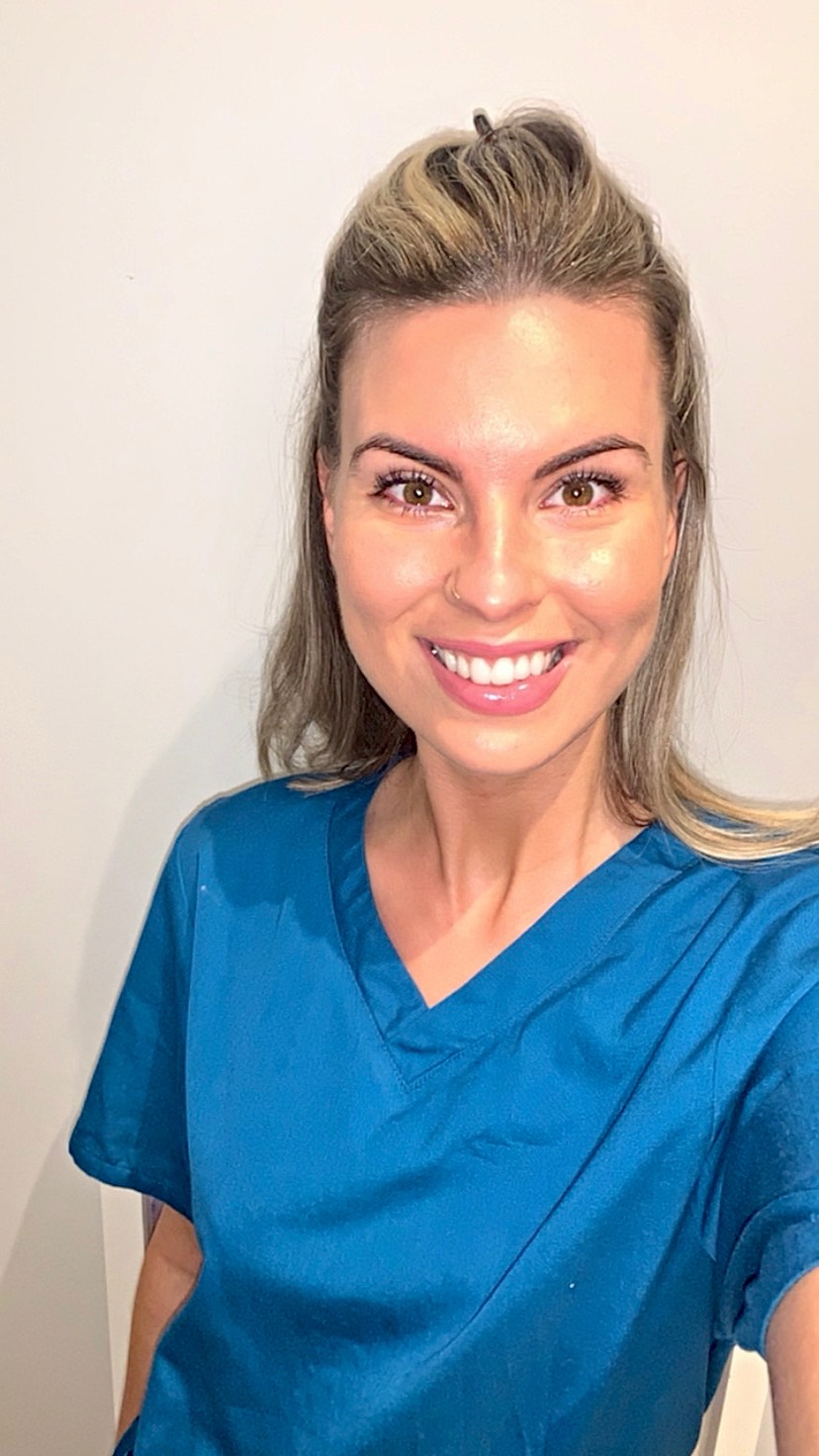 Nicole Assimacopoulos
Dental Therapist (GDC no. 232218)
Nicole will be very happy to see you to help with the health of your gums and general health of your mouth. Originally from Newcastle, Nicole moved up to Edinburgh and qualified with a BSc in Oral Health Science from the University of Edinburgh in 2019. She has gained a lot of experience since then and is able to offer all dental hygienist services at Barron Dental. If after work appointments suit better for you, she is able to offer early evening appointments on Tuesdays.
Dental Care Professionals
All of our dental nurses have passed their National Certificate in Dental Nursing and are registered with the General Dental Council. Their essential role in assisting with your care includes, amongst other things, a thorough knowledge of the techniques, materials and instruments used in dentistry combined with thoughtful and sympathetic patient care. Highly practical, each team member attends Continuing Professional Development courses throughout the year. Our nurses are happy to answer any questions you may have.
Our friendly and cheerful team of receptionists are here to greet you and help arrange your appointments by e-mail, telephone or when visiting the practice. They can also assist with any queries you may have about dental treatments and charges and offer you information about our dental care plans. After your treatment is completed they will ensure that reminders for further appointments are sent to you and ensure you maintain regular check-ups to keep your teeth and gums healthy. You can choose the type of reminders you wish, which can be by e-mail, text message or letter.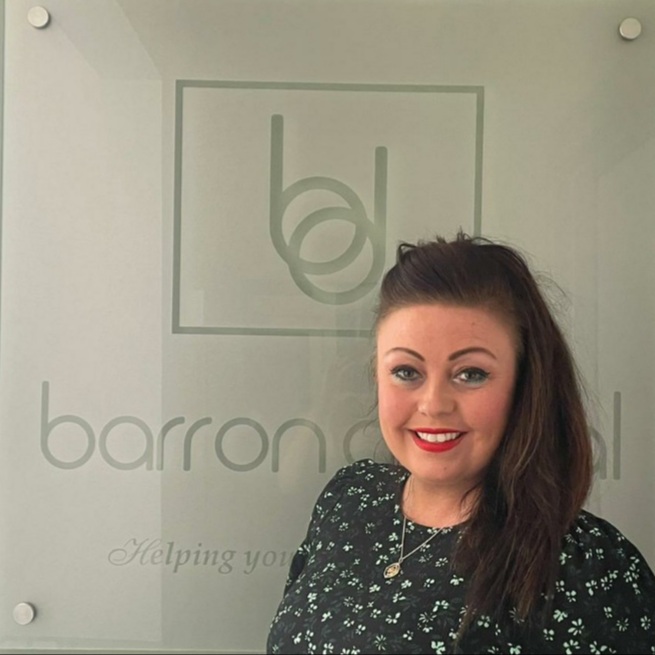 Lisa Clarke
Practice Manager
Lisa is our practice manager at Barron Dental. She has over 20 years experience in the dental world and is qualified dental nurse. You will find Lisa very approachable and happy to help in any way she can. She oversees and maintains the day to day running of the practice. If you ever have any enquiry you wish to speak to her about, she will be very happy to discuss this with you.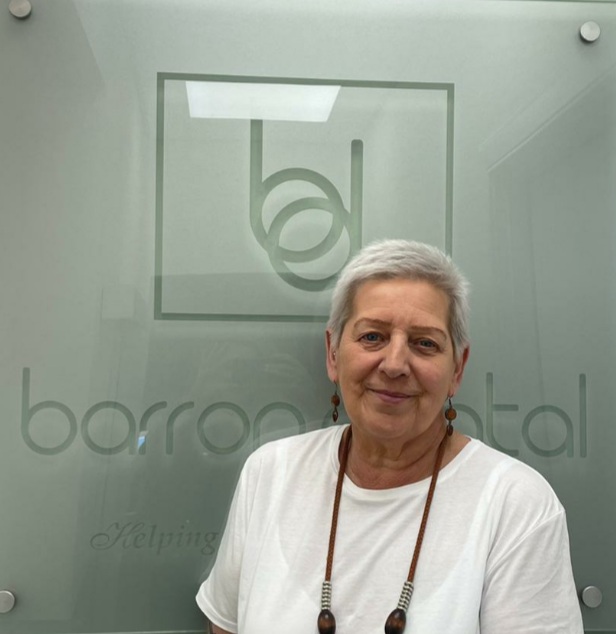 Janis Kemp
Receptionist
Janis has been a receptionist in the medical field for over 10 years. She is always happy to help all patients with their enquiries and arrange appointments for them to discuss their concerns with the dentist or hygienist. She creates a friendly and caring atmosphere, which is particularly helpful for the more anxious patients.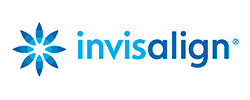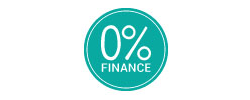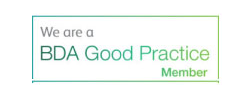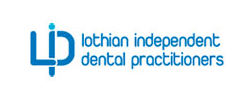 OPENING HOURS
| | |
| --- | --- |
| Monday | 8:30am - 5:00pm |
| Tuesday | 8:30am - 7:00pm |
| Wednesday | 8:30am - 5:00pm |
| Thursday | 8:30am - 7:00pm |
| Friday | 8:30am - 5:00pm |
The premises are at street level and we have easy access for the elderly and those with walking difficulties.
Our practice is situated at the end of Ferry Road, opposite Leith Library and only 500m from Ocean Terminal.
There is unrestricted parking on nearby streets. Bus numbers 1, 7, 10, 14, 21 and 34 all stop nearby. Buses 11, 22 and 36 also stop at Ocean Terminal.