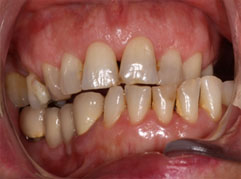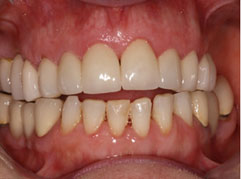 Dental crowns can be the ideal solution for teeth that have broken, have very large fillings or are weakened by decay. 
They are also regularly used to restore misshapen teeth to their proper shape and size or to restore a natural lighter shade to badly discoloured teeth. Dental crowns are also used to:
Replace a large filling when there isn't enough tooth remaining
Protect a weak tooth from fracturing
Restore a fractured tooth
Cover a dental implant
Cover a tooth that has had root canal treatment
Dental Crowns for Cosmetic Enhancement
A tooth crown consists of a full coverage "cap" that fits over the original tooth. Dental crowns strengthen a damaged tooth and also can be used to improve  a tooth's appearance, shape or alignment. Porcelain or ceramic crowns can be matched to the colour of your natural teeth. Porcelain is bonded to a metal shell and has been used to make crowns for decades. The metal core gives the crown strength and the porcelain gives the crown a cosmetically pleasing look.
Zirconia is a newer material that has been used to make dental crowns for the past 10-15 years Zirconia based crowns are now often the material of choice when making crowns. This is a very strong material, which can be made the same colour as natural teeth. This eliminates the need for metal, which can sometimes be seen at the edge of the crown beside the gum and zirconia based crowns generally give a nicer look than porcelain bonded to metal crowns.
For further information on dental crowns and costs, or our full range of cosmetic dentistry services, contact our friendly Edinburgh dental practice team today. To find our Edinburgh dental practice view our map location for details of local transport links.
Barron Dental, Leith: Dental crown and cosmetic dentistry treatments in Edinburgh to bring your smile to life.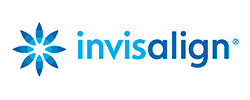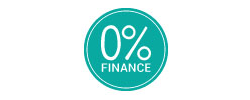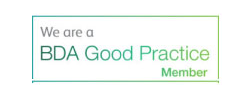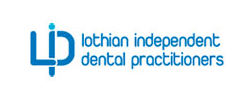 OPENING HOURS
| | |
| --- | --- |
| Monday | 8:30am - 5:00pm |
| Tuesday | 8:30am - 7:00pm |
| Wednesday | 8:30am - 5:00pm |
| Thursday | 8:30am - 7:00pm |
| Friday | 8:30am - 5:00pm |
The premises are at street level and we have easy access for the elderly and those with walking difficulties.
Our practice is situated at the end of Ferry Road, opposite Leith Library and only 500m from Ocean Terminal.
There are parking bays on nearby streets, which you can pay for via ring-go app or by phoning 01315164000. Bus numbers 7, 10, 14 and 21 all stop nearby. The tram stops at Ocean Terminal and so do Bus numbers 34, 35, 36 and 200. It is 7-8 minutes walk from Ocean Terminal to the practice.